Cal-Mag Balance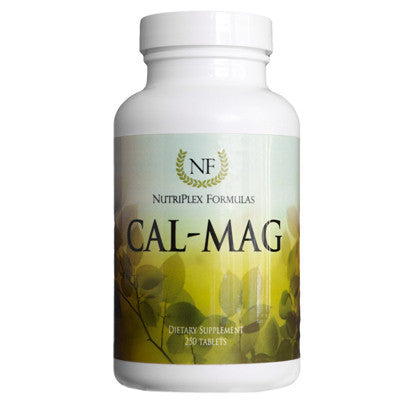 CAL-MAG BALANCE INGREDIENTS:
Proprietary blend of Calcium Lactate, Magnesium Citrate, Organic Broccoli Florets* and leaf,* Organic Slippery Elm Bark*.
Other Ingredients:
Organic Potato Starch*, Organic Arrowroot*, Organic Marshmallow Root*, Organic Rice Extract*,  Cellulose, Silica.
* Certified Organic

Each Tablet Provides: 250 mg Calcium Lactate, plus 60 mg Magnesium Citrate.
SUGGESTED ADULT USAGE: 
4-8 tablets daily, or as directed by a healthcare practitioner. Take on an empty stomach, at least 1/2 hour before eating. 
CAL-MAG BALANCE IS USED WITH:
Cramping, muscular spasms

Supporting enzyme systems, including ATPase (energy production)

Conducting nerve impulses

Regulating hormone secretion

Supporting bone growth and repair

Healing wounds

Allowing proper muscular contraction and relaxation

Supporting blood clotting

Providing intercellular "cement"

Regulating body fluids

Regulating cell division

Balancing electrolyte activities

Supporting cardiovascular function

Supporting immune function

Producing and activating hormones involved in digestion, energy and fat metabolism

Producing saliva

Transporting nutrients and substances across cell membranes

Supporting the process of inflammation and repair

Supporting digestive and bowel function

Supporting the activation of many enzymes

Producing energy

Supporting heart function

Supporting the formation of bones, proteins and fatty acids

Supporting the activation of B vitamins

Secreting Insulin and assisting in its function

Nervous system

Vascular dilation

Mental processes
IMPORTANT NOTICE: ©2023 NutriPlex Formulas, Inc. • Statements are made based on independent food science research and have not been evaluated by the FDA. Information contained herein are for educational purposes only and are not to be used for or in place of proper medical diagnosis and care under a qualified physician. Always check with your physician before using any product for contraindications and proper use.